The US healthcare system's data infrastructure needs an overhaul to prepare for future health crises, streamline patient care, improve data sharing and accessibility among patients, providers and government entities, and move toward the delivery of coordinated care. With insights from leaders from Arcadia, Validic and McDermott, we recently discussed key analyses and updates on the interoperability and application programming interfaces (API) criteria from the 21st Century Cures Act, stakeholder benefits of healthcare data exchange and data submission facilitation for public health purposes. Click here to listen to the webinar recording, and read on for highlights from the program.
To learn more about the "Around the Corner" webinar series and attend an upcoming program, click here.
PROGRAM INSIGHTS
COVID-19 is reshaping healthcare through technology. Hospitals, clinicians and payors need to use digital health tools to address the challenges of the coronavirus (COVID-19) public health pandemic. How COVID-19 data and health information are captured, and then move through electronic systems, will form the foundation by which digital health tools can become effective in identifying cases, treating them and ensuring favorable outcomes.
API certification requirements under the 21st Century Cures Act are designed to enhance the accessibility of electronic health information. The 21st Century Cures Act's purpose is to advance interoperability, address information blocking, support seamless exchange of electronic health information and promote patient access. Putting data from electronic health records (EHRs) into patients' hands through consumer-facing apps will empower them to understand and take control of their health.
EHR vendors will be required to offer APIs that comply with the Fast Healthcare Interoperability Resource (FHIR) standard by May 1, 2022. The 21st Century Cures Act Final Rule will require EHR vendors to offer FHIR based APIs that make electronic health information more readily available to third-party applications (apps) of patients' and providers' choosing. API standardization will make it easier for third-party developers to build these apps, and for patients and providers wishing to use third-party apps to leverage their electronic health information for various purposes, including health information exchange and population health management.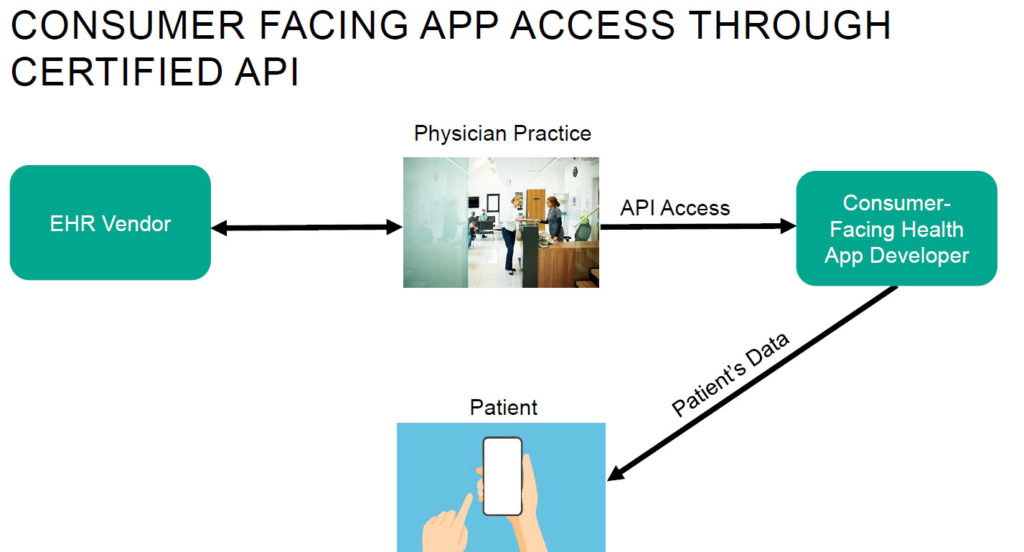 Interoperability refers to the standards that make it possible for different EHR systems to exchange patient medical records and information between providers. Increased interoperability between EHR systems using harmonized standards allows for a more seamless transfer of patient data between providers. The interoperability requirements in the 21st Century Cures Act have the potential to advance patient access to their data and the use of information among physicians.
Both providers and patients can drive data exchange. One challenge impacting data exchange between patients and providers is that providers cannot always access or integrate data that patients have created with third-party tools (e.g., fitness trackers). However, there is emerging technology designed to aggregate and standardize consumer-generated health information, enabling the patient to bring it or send it to their provider so it can more seamlessly integrate into the provider's EHR systems. As this technology becomes more widely available, the more complete a picture physicians will have of their patients—particularly regarding data generated during every day activities.
Patients' ability to access their data can assist in major behavioral changes to better manage chronic conditions. The evolution of APIs and the corresponding app development will likely make it easier for patients to collect and catalog their own data and use this collection to coordinate with their providers and change their own behaviors. Moreover, bringing relevant personal health data into the clinical workflow allows providers to provide more proactive patient care and can encourage patients to better manage their own care.
Expanded Medicare reimbursement of digital health services, including remote patient monitoring, is likely to facilitate adoption of digital healthcare delivery. Increasing government reimbursement may motivate providers to embrace remote patient monitoring and other digital healthcare delivery solutions. As these digital health tools are adopted, chronic conditions are better managed and improved outcomes are demonstrated; as a result, the Centers for Medicare & Medicaid Services (CMS) and Medicaid agencies will have tangible evidence of health outcomes improvement and may move more quickly toward reimbursing value-based digital health services.
The transmission, receipt and storage of COVID-19 and other data for public health reporting and population health management will in part require complex "public/private" collaborations that leverage more state-of-the-art private sector IT systems and expertise. The US healthcare delivery and payment system lacks a centralized, government-controlled electronic health IT system and repository that other countries with nationalized healthcare have to support the large-scale data collection, storage and analytics capabilities needed for effective public health surveillance and population health management. In addition, the IT infrastructure of relevant state and federal agencies has not kept pace with the rapidly accelerating sophistication of healthcare technology. Creating and implementing public/private partnerships to overcome these barriers will require assimilating and integrating many different stakeholders, IT systems, supporting data structures and applicable state and federal laws. Starting now and using a phased approach will be essential.