Both developers and users of digital health solutions face both immense opportunities and daunting challenges. One key challenge is compliance with the often complex state and federal laws and regulations adopted by the numerous regulatory bodies responsible for overseeing different aspects of digital health. The following illustration identifies the numerous regulatory bodies that have been increasingly focused on the use of technology in healthcare and are expected to continue their focus and enforcement activities in the coming years.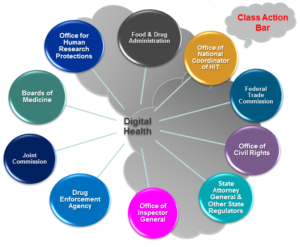 Because innovation is moving faster than the law in this area, in-house counsel and compliance officers must be prepared to identify and manage the myriad compliance and liability risk considerations arising from participation in and use of digital health tools. This will require an understanding of how each of these regulatory bodies oversees and regulates digital health today and close monitoring of how that evolves and changes in the future.
Health care providers, patients and consumers should approach the selection and use of digital health advancements with a reasonable degree of caution. As AMA CEO James L. Madara, MD, advised in his address at the recently concluded 2016 AMA Annual Meeting, "…. Appearing in disguise among these positive products are other digital so-called advancements that do not have an appropriate evidence base … or that just do not work well or that actually impede care, confuse patients and waste our time … from ineffective electronic health records to an explosion of direct-to-consumer digital health products to apps, some of which are of poor quality." In this regard, providers would be well served by performing sufficient "due diligence" to determine whether the functionality of the digital health tool effectively meets their specific clinical and operational needs, as well as the needs of their patients, and to evaluate the developer's compliance with applicable laws and regulations.
---