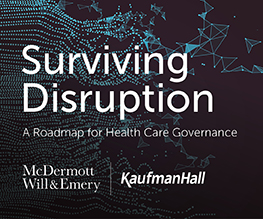 Disruption of traditional health care is inevitable and poses a central challenge for health care governance. While the size and complexity of the health care industry have slowed the process of business disruption, its high costs and lack of convenience make it highly vulnerable to innovative, nontraditional competitors.
To make sure boards are well-prepared to address this challenge, McDermott Will & Emery and Kaufman Hall have partnered on a new thought leadership series designed to help you identify the signs of disruption, learn how to prepare your organization, and understand the implications for health care governance.
Get critical insights on how to spot, prepare for and manage disruption in your organization now:
Listen to Surviving Disruption Podcast, Episode 1: The Signs of Disruption.
Download Is Your Organization Disruption Ready? Questions to Assess Preparedness.
View our Top 5 Business Disruption Considerations for Corporate Governance infographic.
Watch our Behind the Scenes: The Making of the Surviving Disruption Podcast Series video.
Subscribe to the Surviving Disruption podcast on iTunes, SoundCloud and Pocket Casts, and keep an eye on the Resource Center for Episode 2: The Path Through Disruption and Episode 3: A Governance Foundation, being released on December 27 and January 10.

---